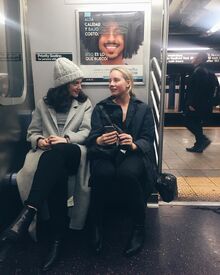 As ribbons are a major part of Melodrama lyrics, so is "the subway", as well as being a notable part of Ella's world.
Symbolism
Ella has mentioned often how she rode the subway in NYC while writing lyrics for Melodrama.
Mentions
"Writer in the Dark" - "I ride the subway, read the signs, I let the seasons change my mind. I love it here since I've stopped needing you", Lorde mentions her time riding the subway, and she notes how she loves it there.